About Artists in Stained Glass (AISG)

In Memory of
Eric Wesselow
Artists in Stained Glass (AISG) started as a non-profit art association founded in 1975 Toronto, to encourage the development of stained glass as a contemporary art form, in Ontario and throughout Canada.
Originally, AISG sponsored events for its membership such as talks and lectures, workshops, exhibitions, film and slide presentations and other social gatherings.
AISG has always been an open association. Its only prerequisite, then, as now, was that the individual had some level of interest in stained glass. Membership privileges not only included the opportunity to attend the talks, workshops, exhibitions, presentations and the like, but also a variety of print material, in the form of Artist in Stained Glass - Bulletins, the Leadline publication, as well as the Flat Glass Journal.
Artists in Stained Glass were very successful in its original function. Toronto saw a huge surge of stained glass influences. The Ontario Arts Council, Harbourfront, Chalmers Award, Gardner Museum of Ceramics and the Canadian Clay and Glass Gallery all were abuzz with stained glass. Professional studios were abundant and the norm and the trickle down explosion of stained glass stores and supply houses, offering materials, equipment and courses was a result of the interest and demand that this medium generated. Any one working in stained glass today can be grateful for the pioneering influences that AISG had.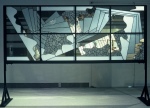 Special Thanks to
Robert Jekyll
Today Artists in Stained Glass is a 32 year old not-for-profit association of stained glass artists, glass crafters, architects, hobbyists, galleries, among others and is still open to anyone who has an interest in the development and promotion of stained glass as a contemporary art form.
Finding a new home, in a new medium, AISG moved to the web in the 1990's. Wanting to reach a larger audience for both development of its membership and for continued public exposure, the web was a radical departure from its original personal format. Now, anyone, anywhere in the world, could communicate via the web site to share information about stained glass.
Delivery of membership advantages had to adapt as well. Evening slide shows and presentations evolved into the AISG Stained Glass Gallery. This offered members a global business card. The message board was, and still is, an international forum for anyone, professional or novice to rub elbows together. It is a valuable free resource for the exchange of ideas, to look for stained glass employment or employees, to ask for help or information on stained glass techniques, to share one's expertise, find an artist, post courses and to discuss stained glass trends.
Collectively, membership fees cover the costs of maintaining, updating, editing, adding to and changing the web site. Currently there are two individuals responsible for this, a paid programmer, who handles all the technical issues and a volunteer glass enthusiast to oversee content and handle all other inquiries.
The AISG web site is only as good as the members and guests who participate. I would encourage you to show your support and become a member. If you like what you see, please tell a friend, your stained glass supplier and/or favorite gallery and if you think there should be some changes or other things included, please let me know.
On behalf of all the previous membership, thank you for visiting our web-site.
Elizabeth