Stained Glass Exhibitions & Workshops at Forest Lawn in Glendale, California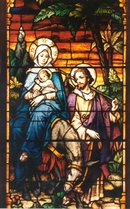 Apparently Forest Lawn Memorial Parks & Mortuaries has a museum in Glendale, California that puts on a number of exhibitions and workshops, some of which on/in stained glass.
Until November 5, 2007, the Light & Color exhibit is open with rarely seen stained glass windows from the 13th—20th centuries. From the press release: "This exhibit combines entire stained glass windows with portions from stained glass windows to provide the visitor with the opportunity to appreciate how the use of glass, color, and light collectively work to create radiant works of art".
Starting November 23, 2007 the Light & Hope: The Forest Lawn Christmas Windows exhibit opens, featuring "five beautiful backlit stained glass windows about the story of the Birth and early Childhood of Jesus…The windows in this exhibit were created by the Franz Mayer & Co. of Munich, Germany and date back to 1903".
On October 21, 2007, they are also offering an Art of Stained Glass for Halloween workshop. Local artists Tom and Betty Krumal of BT Glass will be teaching the workshop.
The museum is located at 1712 S Glendale Ave in Glendale California.
¤¤¤