Exhibition: Remembered Light: Glass Fragments from World War II, The McDonald Windows
by Jason Peter Brown on February 11, 2008
Filed Under: EXHIBITIONS, HISTORY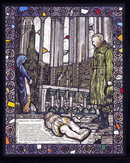 Peter Eichorn's "Liebfrau Kirche (Church of Our Lady)". Image copyright Washington State History Museum.
The Washington State History Museum is holding an exhibition called Remembered Light: Glass Fragments from World War II, The McDonald Windows until March 2, 2008.
It features a series of 25 windows made by 13 international artists from the shards of broken stained glass from European sanctuary windows destroyed in World War II. The glass was originally collected during the war by Chaplain Frederick McDonald, and the exhibition includes his personal recollections.
There's a detailed look at the exhibition by Rosemary Ponnekanti for the News Tribune of Tacoma.
¤¤¤