Colour Inspiration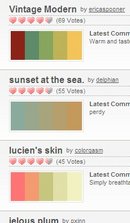 Top ranked palettes at COLOURlovers.com
Summer fun has gotten in the way of submissions lately, but as August winds down we should be back to a more regular posting schedule.
I've found a great online community for fans of colour, approriately called COLOURlovers. If you enjoy opening up a brand new box of Crayola® crayons, or if you need a little colour/palette inspiration for you next work, then you will love this site.
COLOURlovers allows you to search for palettes by colour, hue, keywords and ranking. It also lets you submit your own palettes for judging by the rest of the community.
It also features a blog dedicated to spectacular colours in all forms of artwork and experience. The blog includes an entry that may be of particular interest to stained glass artists about the glass-blowing work of artist Dale Chihuly.
¤¤¤