European Cathedral Art Renaissance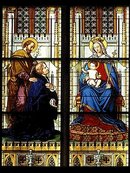 A Stained Glass Panel from Cologne Cathedral in Germany.
I just read this interesting article about a return to artistic commissions for churches and cathedrals across Europe in the International Herald Tribune. The projects range from restoration of works damaged in World War II to completely new and modern additions.
German painter Gerhard Richter has created a stained glass window for the Cologne Cathedral (link to a virtual tour of the windows of Cologne Cathedral). His commission was to replace windows that were destroyed during the bombings of World War II, and for which no original plans remained. The result is an 11, 500 piece window, to be unveiled August 25th.
The article discusses other commissions, drawing on a variety of media and techniques including ceramics, painting and sculpture, and asks the question "Do all these new installations herald a renaissance in religious art?"
¤¤¤