The Church Tour — American Glass Guild 2007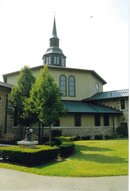 St. Dominic Chapel at Providence College
The weather was magnificent. The perfect kind of day for great stained glass photographs. Starting at the Providence College Chapel, a relatively new construction, completed in 2001, Sylvia Nicolas, stained glass artist and sculptor, was on hand to answer questions and delight us with insider stories about her work. Hers is an exquisite style, influenced by her father Dutch artist Joep Nicolas. There is a new book about the chapel. It has beautiful colour photographs of the interior, history and the stained glass windows. A Dream Realized: St Dominic Chapel at Providence College was available for signing by the artist. Anyone travelling to Providence or in the area should check with the College for permission for a visit. It is very serene and has a powerful presence, for such a relatively new construction.
Our second stop was St Luke's Episcopal Church in east Greenwich. Greeted by a fabulous textured relief mosaic in the foyer, this set the precedent for colour in the church itself. This is a deliciously rich and eclectic collection by stained glass greats. Tiffany all aglow in opalescent, Rowan Le Compte, Robert Pinart, among many other individual artists and an array of studio works. Rowan was available on the tour to discuss the installation. The beautiful church was a cornucopia of coloured light. Well worth the visit. A catered lunch was provided in the Church's lunch hall.
Nothing I can say can prepare you for the next stop. I would strongly urge every stained glass artist to visit the adult chapel at the Rhode Island Hospital Chapel. Peter Geisser joined the tour to give us the technical information regarding the installation. Whether you end up liking it or not, you cannot dismiss this work. The room, except for the floor, is entirely decorated with stained glass, that is window, door, walls and ceiling. The colours electric. And for the two lone chairs and small table/alter, you are for all intensive purposes in the Temple Mount of stained glass. It is one of the most unique applications of stained glass that I have come across. This otherwise small room appears huge, due to clever reflections. For those of you who relate to energy this room is definitely charged and for those who cleave to divinity, spirit is here as well. The room easily transcends all boundaries, naming conventions and belief. Come here to heal or come here to challenge your concepts of what stained glass can be.
The last stop of the day was St Brendan's Catholic Church, in Providence. This Church is one of the gentle hulking giants of church construction, built in the 1960's. Helmut Schardt, who worked with Benoit Gilsoul, who's design in dalle de verre, commonly referred to faceted or slab glass, sours at least forty feet into the air and at least again as wide across the front of the church (alter window). There is also an interesting combination of dalle and traditional stained glass, as well. Benoit also painted the Stations of the Cross that is, unfortunately no longer back lit by natural light due to a building addition. It was however artificially lit for our visit. I discussed the window with the Father, who stated that the faceted glass is quite dark at night and there has been no adequate lighting solution to date. We made our way back to the hotel both pleasantly charged with the sights of the day and comfortably fatigued from the warmth of the day.
This kind of tour is essential for all stained glass artists to participate in. It stimulates ideas, generates conversation, increases knowledge and gets those of us usually head down, hard at work, to come up for air and notice the beauty, in all stained glass creation. And the beauty of it all is that you do not have to wait for a big conference, in a different city, because a church tour can happen in your own backyard, let your fingers do some walking in the yellow pages and see some sites closer to home. You might be surprised at what you find.