Canadian Clay and Glass Gallery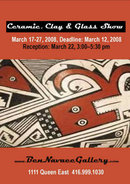 Fellow artists:
We invite you to submit your artworks to our upcoming Ceramic, Clay and Glass Show. The artworks will be shown from March 17 - 27, 2008, (11 business days) with opening reception on March 22, 2008.
Please visit our web site for details.
¤¤¤