Stained Glass in Muscat, Oman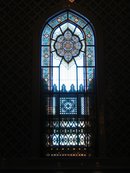 A stained glass window in the main hall of the Grand Mosque in Muscat, Oman. © anrivan.
In our continued quest around the virtual globe to find diverse examples of stained glass work, we now arrive in Muscat, Oman on the south-east coast of the Arabian peninsula.
I found the two pictures included in this post on Flickr. They were taken by a user name anrivan, and he has some other great shots of the sites around Muscat, including some nice shots of the Grand Mosque from which the stained glass photos were taken.
I also found this short article about the stained glass work at the Muscat Municipality Building from the Islamic Voice. Stained glass artist Asad Hajeebhoy of Bangalore, India created the 30 metre diameter dome for the building. Unfortunately the images of the dome are quite small, so if any of you have any larger images for us to post, please feel free to email them to us.
¤¤¤