Stained glass breathes new life into derelict buildings

For the past three years Christina Dembinska has been breathing new life into forgotten buildings with her handmade stained glass window installations.
The history behind lonely, abandoned structures fuels her passion for giving them a second chance and wowing passers-by.
Read the full article at BBC News.
¤¤¤
Stained Glass Door by Armin Blasbichler

Check out this playful stained glass door by Armin Blasbichler. It has been installed in a home in South Tyrol, Italy. I love the light it casts on the stairs!
¤¤¤
Let's fix up Notre Dame with concrete and steel: but let the sun shine into it

Notre Dame Cathedral Fire
Here's a lengthy and interesting blog post by Dr James Alexander Cameron about his idea for the restoration of Notre Dame Cathedral. via Stained Glass Attitudes blog.
¤¤¤
Massey Hall's "Hidden" Stained Glass Windows Find New Life

From a CBC article:
"Guinan's team of five glaziers at Toronto company EGD Glass are sharing the job of fixing the windows with another restoration firm, Vitreous Glass. They scrub away the dirt, replace cracked glass, and touch up blemishes on the composers' faces, in an effort to rescue the 93 historic windows.
It's part of Massey's two-year "revitalization" project, valued at $139 million and set to be completed in late 2020, that will inject new life into the venue."
¤¤¤
Stained-glass Three-Wheelers

Reliant Robin Stained Glass Car
A now for something a little different…Car windows replaced with stained glass!
From the Guardian: "Reliant Robins, the celebrated three-wheeled British cars, have been given a makeover in Stuart Langley's Stained Glass Cars " exhibit.
Check out the gallery at the Guardian here.
¤¤¤
Meaford Stained Glass Mystery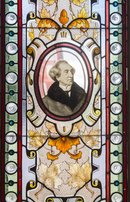 A one-of-a-kind stained-glass window depicting Sir John A. Macdonald was donated to a Meaford museum. But no one can figure out its origins. Can anyone here identify it?
Read the article at the National Post website.
¤¤¤
About DEQ Oregon
FYI- You can get more information regarding the air and soil testing going on, in and around Portland, Oregon. To date, no serious health risks have been determined, though there were two sample anomalies, with further investigations ongoing. Results of some of the urine and other testing will be released at the end of the month.
Why should you care? Uroboros and Bullseye Glass have come under the microscope. They have had to stop making glass with cadmium and chromium. Nickel could be the next heavy metal with restrictions. This means certain favorite
colors will be in short supply. The latest news from Uroboros is that they are installing new and improved emission controls on their furnace stacks. This means higher prices, when they get back into production, assuming that the Oregon State Department of Environmental Quality, lifts the stop order.
The DEQ is asking for public input, on their website, though the submission date might already have pasted. I hope you take a moment to send an email to them anyway, supporting our industry. I for one, am pleased that Uroboros is taking the initiative and doing the right thing for it's worker's health, the health of the families that live in the area and the long term health and well being of the environment.
¤¤¤
Safety First
I hope you have been receiving emails about the use of heavy metals and toxic components in colored glass. I've been receiving my information from my local wholesaler and some directly from Uroboros Glass. There seems to be concern about high levels of toxic cadmium and selenium in the vicinity of the glass manufacturer.
This shouldn't be any surprise to us in the glass industry.
Our medium is fraught with hazardous materials. It doesn't matter if you solder, paint, stain, enamel, fuse, sandblast or whatever additional technique you use to embellish your glass work, you know there are potential risks. This is why we wear safety goggles, gloves, aprons, shoes, masks and or respirators. This is why we educate ourselves, our clients, our students and the general public about the risks and how we can safely work with these materials. It is why we read, correctly store, have eyewash stations, first aid kits, consult with local fire/rescue and address the information on MSDS sheets. As an industry, we have been pretty pro-active since we first learned about the hazards of lead.
And we've been aware that lead has been a risk for a very long time. Back in the early 1990's the US government wanted to ban all lead. This decree was a result of children suffering from lead poisoning, usually ingested from sources such as lead painted toys, imported from China or loose lead based paint on window sills and walls. Instead of targeting the true source of the problem, unsupervised children, poverty and lead in painted materials near children, the wisdom of the day was to ban all lead. Luckily the glass conference in Cincinnati at that time, had enough signatures to sway and exempt stained glass from this governmental policy. It would have killed the glass industry in a heart beat, made things like lead crystal illegal, fishing weights banned and regulated every piece of stained glass, historically, religiously and in secular use, in some sort of violation. This was a serious issue, intending nothing but good, however this blanket policy, was inappropriate because the government did not take the time to fully understand the ramifications of their original plan.
There used to be a company in Toronto, called Canada Metal. They smelted all manner of materials, mostly metals, for all kinds of useful objects. They had a large industrial site, in the old water front, east end of the city. They also made lead came. Lots of it. And as cities grow and residents want to gentrify run down areas, pressure regarding health risks, smells and such, finally closed the site. It is now a trendy residential area. And every now and then a large condominium construction starts, disturbing the soil, and surprise – lead contamination. The sins of the father….
I also live on the huge chunk of stone, known as the Canadian Shield. Back in the ice age, glaciers moved the earth and deposited all sorts of interesting and useful minerals. Gold, silver, lead, nickel etc. Some in concentrations large enough to mine. Some minerals like uranium, not so nice to be living close to.
I don't know know all the facts regarding this story about the high levels of cadmium and selenium in the neighborhood of the glass manufacturer. I hope that that they are responsible enough to know that by contaminating their factory and their immediate environment they risk their employee's health and well being. If the contamination spreads, then it affects their neighbors. Eventually they would run the risk of self destructing their very existence. Perhaps I am naive to believe that they know better. Perhaps it was the sins of an earlier generation. Perhaps there is some natural phenomenon.
Now that a hazard has been recognized the hunt is on who to blame and who is going to pay. It sounds like we are in the witch hunt phase – local municipalities looking for who can afford to pay and local businesses running good spin on public relations. Reminds me all too much of the movie Erin Brockovitch.
What I do know is that our reds, oranges and yellows are going to up in price. If cadmium and selenium are forcibly banned or voluntarily removed from recipes, it will fundamentally change color formulations. This will mean changes in prices, availability and the final resultant color. My local wholesaler is already driving fear and suggesting we buy now, what we can and warns that future prices will be significantly increased.
There is a lot here for every stained glass studio/maker to consider. Where are we still blind to the environment, to our health and safety? How can we solve this problem and make things better? This issue is half a continent away from me, but that doesn't mean I can afford to ignore it or deny it. I love glass and want to see it survive and thrive, despite it's potential risks. We have an amazing knowledge base and can work with this material safely. As an art form, stained glass needs to be supported and we may need to come together to have our voices heard. Perhaps it's time for the big stained glass associations to get involved, share solid research and information and provide support to our industry resources.
¤¤¤
Gentle Soulful Man
Nearly 10 years ago, I jumped feet first into the stained glass industry's large associations and their conferences. It was time to reconnect with the "big picture" of glass, get out of my local mind set and find new relevance for an age old art form that had started to experience decline.
I may not have found the answers to the questions I carried, however I did make some wonderful friends and a myriad of exquisite contacts. Jean Jacques Duval, Helmut Schardt and Nick Parrendo quickly come to mind. So the news of Nick's death hit me extremely hard.
I suppose it is irrational to become so sad over someone who wasn't more than an acquaintance. Our glass community is small and the truly gentle and soulful hearts are a gift, so when they are gone, the void is palpable. Anya Sostek wrote a lovely and informative obituary for Mr Parrendo in the Pittsburgh Post Gazette, which I copied and pasted below, which I hope you take the time to read.
My experience of Nick was of his sweetness and passion. He carried grace with him always and was so generous in action and word. He showed me it was possible to carry spiritual conviction daily, in everything he did and tune out the dark noise of commercial avarice, simply to do good work.
In an industry fighting for survival and modern relevance, we are in the dilemma of recognizing and praising our brothers and sisters in a very small niche, while desperately trying to out bid the other for the ever shrinking work pool. This tension cannot be resolved without recognizing it. Nor will it mend by constant division. Nick's open heart and deep love for his work and his community was a light often seen for what it was, though it may not have been embraced for what it could have offered us, in healing.
I also note what his death coincides with - the Orthodox and Catholic Church's centuries long division started with humble meetings this last week. Spiritual reconciliation. Even in Mr Parrendo's death he is still teaching us that love is all around us and that even the deepest wounds can be healed.
I am grateful to have known him, ever so briefly. He will be missed.
¤¤¤
Anya Sostek of Pittsburgh Post Gazette writes…
Nick Parrendo has been a stained glass artist for 50 years.
Anya Sostek / Pittsburgh Post-Gazette
As a child beset by stomach pain, Nicholas Parrendo spent months in Children's Hospital. A nurse one day handed him some paper to draw on, remarking when she returned that what the 12-year-old had done was pretty good.
"'I never thought I could do anything good,'" he'd later tell his daughter, Celeste. "That gave him encouragement," she said. "He started to take a different outlook on life."
That outlook led him toward a passion for both art and faith. Those intersected in his long and prolific career as a stained glass artist, designing literally thousands of windows on display at churches in the Pittsburgh area and beyond.
Nick Parrendo died Thursday of cancer. He was 87 and until a few months ago, still worked six days a week.
"He didn't have a job — he just had a love for what he did," said Kirk Weaver, president of Pittsburgh Stained Glass and a friend and business competitor. "If he could do it 24/​7 he would have, and not for the money. It was all about the spiritual aspect of the designs."
As a sixth-grader, Mr. Parrendo had prayed in the hospital that he wouldn't need surgery and once he was released without going under the knife — diagnosed with bleeding ulcers that eventually healed — he became close with the Rev. Edward Farina, priest at Our Lady of Perpetual Help in what is now known as Brighton Heights.
He graduated from North Catholic High School and served a year and a half in the U.S. Army as a clerk typist, enrolling through the G.I. Bill at the Ad-Art Studio School in Downtown. As a part-time job, he cleaned classrooms at the church, drawing on the blackboards after he cleaned them to amuse students the next day.
He met his wife, Luella, through the Our Lady of Perpetual Help bowling league and they married in October of 1950, just months after Mr. Parrendo began his first and only job at Henry Hunt Studios, a stained glass shop that had opened in Pittsburgh in 1906.
Mr. Parrendo rose quickly through the ranks there, beginning as an apprentice earning 75 cents an hour and becoming the shop's sole designer in the 1960s. In 1987, when the studio went up for sale, he mortgaged his house to buy it.
When he started there in 1950, the studio had completed about 1,800 jobs. Now, said his daughter, that number is in the 8,000s, with Mr. Parrendo the only designer since the 1960s.
At what is now Hunt Stained Glass Studio on the South Side, Mr. Parrendo loved to give tours, including his religious library on the second floor. "He always said that he was still apprenticing even though he started there in 1950," said his daughter, noting that he never failed to credit his mentors from decades ago, Helen Carew Hickman and Charlie Morris.
Though many of the windows were for churches — including enormous projects like the 74-foot windows at St. Thomas More in Bethel Park — Mr. Parrendo also worked for synagogues, businesses and residences.
"He was fearless in what he did and always welcomed new challenges," said his daughter, a painter herself, recalling a time when a priest asked her father to do a large wooden sculpture of the holy family. "He had never done a wooden sculpture but he went out and bought a set of wood carving tools and just started."
Though, Mr. Parrendo's clients were primarily in the Pittsburgh area, in recent years requests started coming in from other areas of the country as well — including churches in New York City, Arlington, Va., Mystic, Conn. and Narragansett, R.I.
Mr. Parrendo was traditional in some ways — he refused to touch a computer and enlarged designs using a projector and a transparency — but not in his heavily symbolic artistic vision. "He had a very distinct style," said Mr. Weaver. "He started designing in 1950 and was a contemporary designer back then. With a few other guys, he was really changing the way stained glass appeared in this country. He's one of the best iconographers that I've ever known."
Luella Parrendo died of leukemia in 1981. Mr. Parrendo is survived by four children: Celeste, of Brighton Heights, Edward, of Brighton Heights, David, of Verona, and John, of Murrysville. He is also survived by three grandchildren, six great-grandchildren and two great-great-grandchildren.
The family will receive visitors from 2 to 4 p.m. and 6 to 8 p.m. Sunday and Monday at the Thomas P. Kunsak Funeral Home in Brighton Heights. A funeral mass will be held Tuesday at 9:30 a.m. at St. Cyril of Alexandria Church.
Anya Sostek: asostek@post-gazette.com or 412-263-1308.
article re-posted from original at Pittsburgh Post Gazette.
¤¤¤